ASIN:




Album: ASIN
Language: Filipino
Genre: folk
Release: 1978





1. Musika Ang Buhay
2. Itanong Mo Sa Mga Bata
3. Masdan Mo Ang Kapaligiran
4. Ang Bayan Kong Sinilangan (Cotabato)
5. Balita (contains a Visayan version of the chorus)
6. Pagbabalik



Asin was a 6-member band originally known as Salt of the Earth but later changed their name to ASIN which means "salt" in Filipino. Their first album was released in 1978 during the boom of Filipino folk rock and has a cover of Freddie Aguilar's internationally-acclaimed song, "Anak" while the rest were original compositions. They were one of the first bands to incorporate Filipino tribal instruments in their compositions and studied tribal music in order to stay true to their roots.

A majority of Asin's work had heavy political and environmental themes as well as references to armed conflict in Mindanao, the southern part of the Philippines. The song "Balita" (News) for instance, was written during as a protest against the Marcos dictatorship in the 70's and consequentially, the group's albums were confiscated by the government. Balita speaks of greed and corruption destroying the beauty of one's country and the chorus was featured in 'The APL Song" by Apl.de.ap of the Black Eyed Peas. "Masdan Mo Ang Kapaligiran" (Observe the Environment) focused on the massive illegal logging in Mindanao during the 70's. If you're wondering why a lot of the songs focus on Mindanao, it's because most of the members grew up in Mindanao and they wrote these songs in the hopes that issues in the south would be resolved. "Bayan Kong Sinilangan" describes the armed conflict in Cotabato, one of the provinces in Mindanao and the hopes for peace and unity among both Muslims and Christians. This is a recurring conflict even until now with Muslim rebel groups and the government that has left a lot of homes and families devastated.

"Itanong Mo Sa Mga Bata" (Ask the Children) is basically a song about children and how we should think of them first instead of being selfish. And when we compare our lots in life, we should observe how children are and how their views on life are so simple and honest compared to us. "Musika Ang Buhay" (Music is the Life) is about a young woman's decision to give up the life she had for her dream and how she's returning to her hometown to prove to them that she made the right choice, whereas "Pagbabalik" (Return) speaks of returning to one's roots after straying down the wrong path for a time.

Asin disbanded in 1993 after one of their members was murdered in a bar because he had refused to sing for a lawyer. Three of the five remaining members reunited later in 2000, but the third backed out and the two remaining members, Lolita and Pendong, went on to release another album.

I don't have all the other songs Asin wrote, but the ones that I have are the songs I would recommend. The themes are very profound and still have an impact on society as they can still be heard playing on the airwaves form time to time.




FREDDIE AGUILAR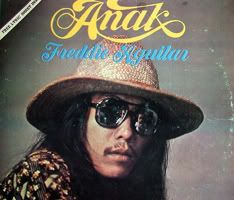 Album: Anak
Language: Filipino
Genre: folk rock





1. Bulag Pipi at Bingi
2. Anak (IT IS IMPERATIVE YOU DL THIS TRACK!!!)
3. Estudyante Blues
4. Magdalena
5. Bayan Ko
6. Kumusta Ka Aking Mahal
7. Ipaglalaban Ko



Freddie Aguilar is a folk musician who is probably best known for his songs "Bayan Ko" (My Country) which became an anthem during the 1986 People Power Revolution that overthrew the Marcos Dictatorship. His other certified hit, "Anak" (Child) was released in 56 countries and translated into more than 26 foreign languages. Both songs are still karaoke staples in the Philippines and still garner much applause. Trust me, you'd be much better off singing these than "My Way".

Though Freddie has penned a lot of hits in his career, I would say "Anak" is my most favorite song simply for the profound message it conveys. The story behind this song gives it more depth as the lyrics are taken from Freddie's own experiences of rebelling against his parents, falling into gambling problems and later on regretting his actions. He wrote the song to express his remorse and five years after leaving his parents, came back to ask for their forgiveness. The homecoming, according to the wiki article, was a timely one, as Freddie's father passed away soon after that.

Interestingly, "Anak" is also a pretty popular classic song in Japan thanks to Sugita Jiro, and it is probably one of the more faithful translations of the original version. Listen to them here - http://www.youtube.com/watch?v=JzPApnbIk-8 and http://www.youtube.com/watch?v=RwjXV09ccZo). You can also find an English translation of the lyrics here - http://www.youtube.com/watch?v=vA2TMhgZdVc

But of course, one can't neglect Freddie's other hits. "Magdalena" is about a woman who undergoes hardship and pain and is misunderstood by society. I would think it's a tribute to women who are forced to go abroad as domestic helpers, but that could just be me. xD;; "Bulag, Pipi at Bingi" (Blind, Mute and Deaf) is about general apathy in society and how people can be compared to the blind, the mute or the deaf when they live their lives. "Estudyante Blues" (Student Blues) is probably one of his more enjoyable and lighthearted songs, talking about the frustrations of being young and being often drowned out by adults.

"Kumusta Ka Aking Mahal" (How Are You, My Love?) is about a brokenhearted man writing a love letter to the woman who left him, saying not to worry about him and live her life happily even as he still dreams about her. "Ipaglalaban Ko" (I'll Fight For It) is another love song that talks about a man's determination to fight for the woman he loves and the love that they share until the end of the world.

I can say that all these songs are very much worth the download. It was these artists, after all, that inspired the bands of today's generation. XD

Feel free to ask for translations of these songs. I cannot guarantee that they will be 100% true to the arrangements of the song, but I offer a close-to-accurate translation of the lyrics.